About GWGP
Seasoned wine educator Dan Belmont launched Good Wine Good People in 2020. We set out to make e-commerce wine shopping more personal, and designed the GWGP experience be easy, inclusive – and dare we say it – fun! We're here to cut through the BS so you can drink good wine, more often. Our aim is less dilemma & more delight, as we humbly share the wines and stories from our favourite winemakers - many of whom we're proud to call our friends.
At the heart of GWGP sits the Personal Somm Questionnaire — a UK first. We love to introduce people to new wine on a personal level, and thus set out to digitise the conversation! No alghorithms here, it's powered by people who love wine. Ultimately, we aim to enrich the journeys of new wine drinkers in need of hand-holding, and seasoned wine afficionados, looking for something new. This remains our flagship product today.
We're building what we believe to be one of the most exciting wine collections in the UK. Now with over 400 wines available, we're continuing to find exciting new ways to share our love of wine – from the new PSQ features, to our ever expanding video library, and the trailblazing New York Bottle Shop, we'll continue to redefine the definition of wine retailer.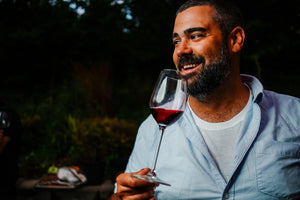 About Dan
GWGP is the brainchild of seasoned wine-and-cheese pro,
Dan Belmont, AWE.
With 10+ years of industry experience (much of which was spent specifically pairing wine and food), Dan builds the portfolio, guides your personal somm selections, and delivers the personal tasting notes.
Dan is a certified American Wine Expert and holds the Level 3 certification in Wines & Spirits from the WSET. He led the education departments of NYC's famed Murray's Cheese, the largest artisan cheese retailer in the US, and Bedales of Borough, a trio of wine bars based in London's historic markets.
Dan is the Wine Ambassador for Liebherr UK, and proudly supports the New York Wine & Grape Foundation along with a variety of international trade associations and producers as a presenter, educator & judge. In 2022 he authored the latest edition of the New York State Wine Reference Guide.
IT TAKES A VILLAGE
Nathan Lithgow – GWGP 'consigliere' and contributor
Nathan has over 10 years of somm and hospitality experience working alongside some of NYC's best. A trained chef, he opened smoked-meat speakeasy Holy Ground NYC in 2018, and continues to be the driving force behind the brand. An American Whiskey specialist, Lithgow's scope of work has developed to include beverage consulting, education, and brand collaborations with cocktail bars and restaurants throughout the greater New York market. Moving across the pond in 2021, Nathan has quickly assimilated into the London wine and spirits scene, working alongside top talent and leading importers.

Sarah Wright – DB's 'Palate North Star'
There is no better person to have at your side when discovering new wines! Beyond her great taste, her passion for wine is palpable, ever so evident in her beautifully written tasting notes which accompany many of GWGP's favourite wines. You'll find Sarah running the show at London's groundbreaking winebar 'The Mulwray'! Recently named 'Harpers' Top 25 Sommeliers 2023'!

Jaclyn Smith – researcher extraordinaire!
An experienced sommelier and retailer, Jac's insight into our portfolio, along with her extensive producer knowledge has been invaluable for GWGP's development as a leading wine retailer.

Gigantic Creative
Partnering with the GC team has taken GWGP to new heights that DB did not think previously possible. Our new website, design, branding, and frankly, this whole next phase of growth for GWGP simply could not have happened without their hard work and expertise. Truly good people!